In 1966 and 1967, CFA designed and built the Beckett-Sproule Pumping Station and Reservoir for the Brampton Water Commission. The facility, still in operation today, was an integral component of the South Peel Water System and an important early milestone in the firm's history. The images on this page show the construction of the reservoir and pumping station from excavation up to commissioning of the works, including the pumps, valves and electric controls inside the pumping station, shown in the image at the top of the page.
Since 1956, Chisholm Fleming and Associates (CFA) has been providing transportation, water and environmental engineering services to communities, public-sector agencies, and large public companies across Southern Ontario. In the last 60 years, we have worked with almost 50 towns, municipalities, cities, counties and regions, west to Sarnia on Lake Huron, north to Georgian Bay and the communities of Parry Sound and Gravenhurst, and east to the community of Bainsville on the Ontario-Quebec border. We also work with the largest cities and regions in southern Ontario, including Toronto, Mississauga and Brampton, and Peel, York, Durham and Halton.
Reinforcing steel is being placed for the footings of the reservoir wall (some of the earth excavated from the site is in the background).
We give you the responsive service of a smaller firm
Globalization has transformed the consulting engineering industry. The current trend of mergers and acquisitions has resulted in consulting giants with revenues that often far exceed those of the communities they work for. Out-of-town, out-of-province or even out-of-country head offices that bring rigid business practices to their projects can mean that doing business with a global firm is about doing things on their terms, not your own.
CFA prides itself on responsive, personalized service. With every project, we give our clients a single, direct point of contact in the project team, and we see every member of a project team as a problem-solver for the client who acts as an extension of the client's own organization. We believe that, at the end of the day, it's the individuals you work with that count, not the size of the company.
The walls and floor of the reservoir have been completed and the columns that will support the roof are being capped with concrete beams.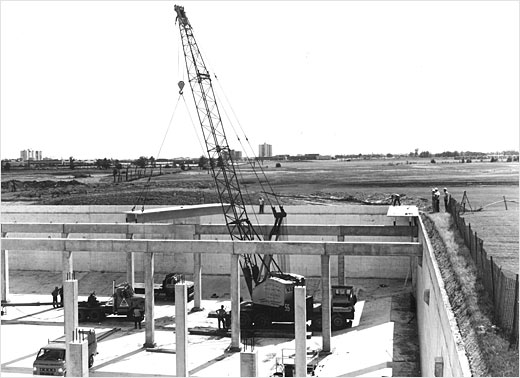 As engineers and other specialists, we design and build to enhance communities, environments and economies for present generations and for the future
On every infrastructure project, our job is to enhance the human and natural communities we work in for the long haul, and we do it by giving the maximum value possible for the money invested in our projects, thinking equitably and creatively about the health and quality of life in the communities we help, and designing and constructing to not only reduce the environmental impacts of our projects but enhance the environment into the future.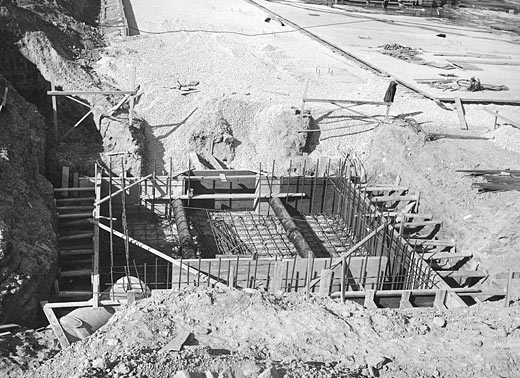 Insightful design and sound construction for the valve house and the rest of the facility has meant that Beckett-Sproule continues to distribute water to residents and businesses, right up to today.
A fourth element of sustainability: our employees
We see another aspect of sustainability: how we treat our employees. We see it as an issue of sustainability because our long-term future as a firm is dependent on holding onto talented employees and investing in their development. Knowing this, we are committed to being the kind of workplace where the best engineers and specialists want to come and stay.
First and foremost, we want to ensure that everyone working on one of our sites gets home safely each day without a single safety incident or injury. Through training and by maintaining a culture of thinking about safety at every step of a project—from project inception right through to project closeout—we have maintained a zero-incidents and zero-injuries record for more than twenty years. This commitment to creating safe places to work extends beyond our own staff, too: we are just as concerned about the safety of our partners and suppliers, and the future users of what we construct, whether it's an operator of a water or wastewater facility, a driver on a road, or a pedestrian on a path.
Beyond safety, we strive to create a workplace that respects the dignity and diversity of our employees and that is a rewarding, enjoyable place to show up to every day. We invest in our employees and give them interesting work to do with the challenges and opportunities to develop to their fullest potential. We also help our employees to meet their commitments outside the office, to family and community. You'll see what we're talking about if you visit our careers page.
The finished reservoir (which CFA doubled in capacity in 1992) will hold 22 megalitres of water.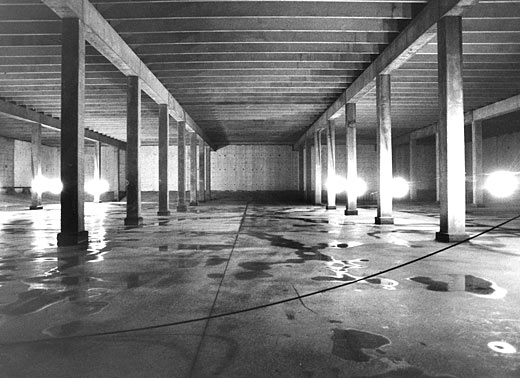 We partner widely, with governments, conservation authorities, public agencies and industry, to improve the infrastructure of Southern Ontario
CFA works with governments, authorities, and agencies at all levels to improve public infrastructure works. We have partnered provincially with the Ministry of the Environment and Climate Change and the Ministry of Natural Resources, and federally with Defence Canada Construction and the Department of National Defence. We have also worked with conservation authorities across the region, including the Toronto and Region Conservation, Credit Valley Conservation, the Central Lake Ontario Conservation Authority, and the Ganaraska Region Conservation Authority. Public agencies we have teamed with on transportation and other infrastructure projects include Metrolinx, Infrastructure Ontario, Public Works and Government Services Canada, the Toronto Transit Commission, York Region Transit/Viva, and the Greater Toronto Airport Authority.
CFA has also provided services for large public companies such as Canadian National Railway, Petro-Canada, Shell Oil, and Enbridge Gas, as well as several public utilities, hospitals and medical centers. We also partner with other engineering, architectural and construction companies in the areas where we practice.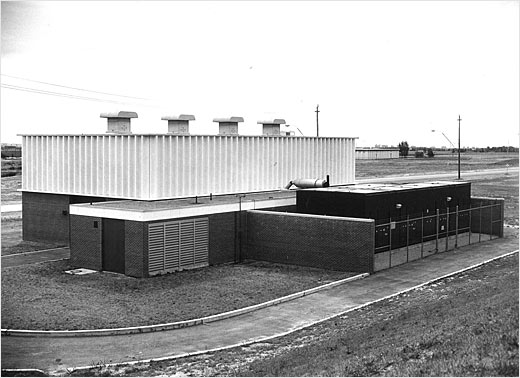 The finished pumping station had a capacity of 3,290 litres/second. It, too, was expanded (to 5,420 litres/second) in the 1992 upgrades that allowed the station to keep pace with development in Brampton and Caledon.
Memberships
CFA is a member of Professional Engineers Ontario (PEO) and holds a current Certificate of Authorization. We are also members of Consulting Engineers of Ontario, the American Public Works Association, the Canadian Public Works Association, the Ontario Public Works Association and the Ontario Good Roads Association, and CFA is pre-qualified on the Ministry of Transportation approved vendors list for providing a range of engineering services.